At RTG Performance Academy we have assembled and are continuing to assemble a family of highly passionate, highly qualified trainers that care about one thing, and one thing only… HELPING YOU! We are out to help you become the best version of yourself possible on your ROAD TO GREATNESS!
Owner, Sports Performance Coach, Personal Trainer
Ryan Graduated from Lindenwood University in 2015 with a Bachelor's degree in Exercise Science. Before entering college, Ryan was a three Sport athlete in High School, taking part in baseball, basketball, and soccer all four years. During his stent at Lindenwood he was a four-year starter on the baseball team while achieving LU Dean's List honors. Ryan began his career in the sport performance/fitness world straight out of college in St. Louis, Missouri. Here he worked with athletes from the youth level, to elite Division 1 athletes, to Professional athletes, along with the general fitness population as well. Ryan is a Certified Strength and Conditioning Specialist which is recognized around the world as one of the top training certifications.
With a heavy athletic background Ryan has a strong passion for helping athletes become the very best they can possibly be. With that being said, his overall passion of helping people achieve their goals in an effort to lead the best, most healthful life possible is top priority!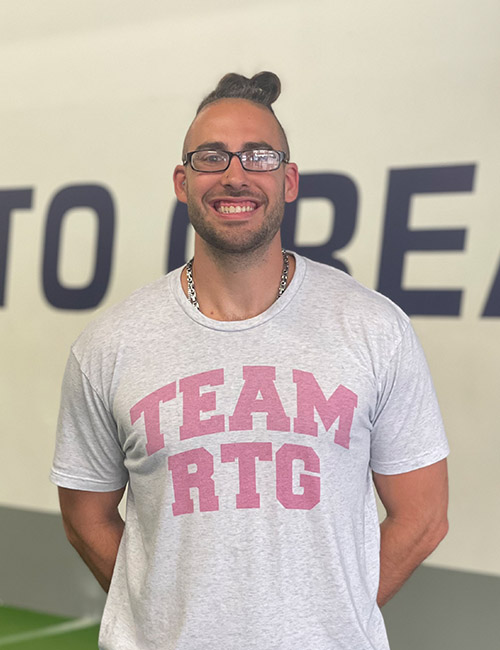 Email: rlight@rtgperformanceacademy.net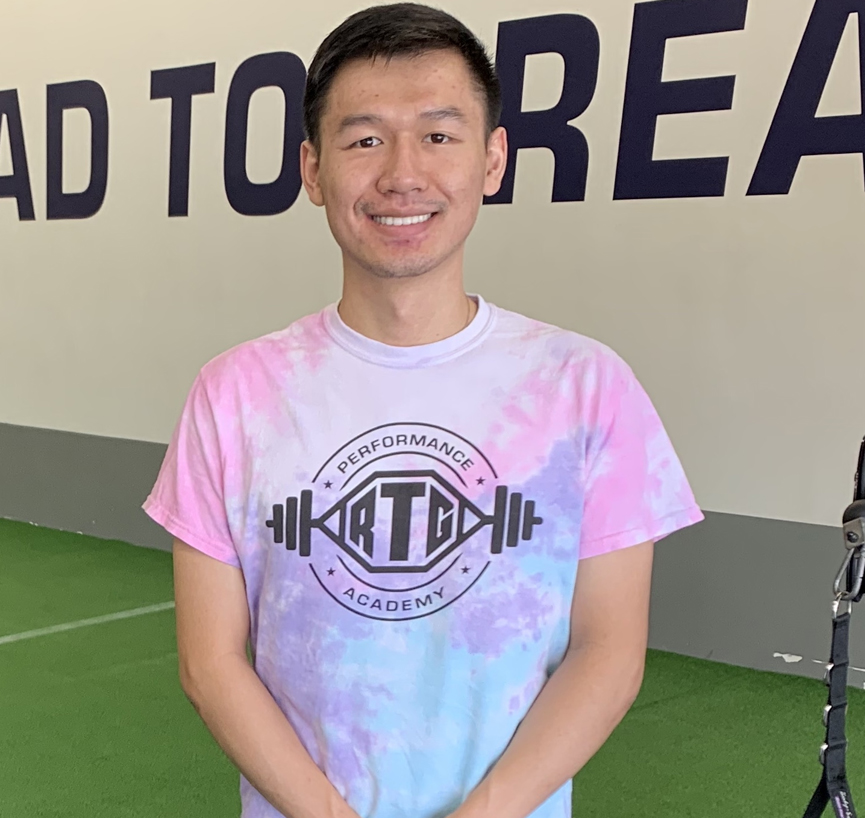 Email: vnguyen@rtgperformanceacademy.net
Vincent Nguyen received his Master of Science degree in Kinesiology with a focus on sport and exercise psychology from The University of North Texas. Although his original plan was to go into medicine with his bachelor's degree in biology from Baylor University, he discovered and was fascinated by the impact sport psychology can have on athletes and performers. Vincent has been playing sports all his life. He mainly played tennis competitively throughout middle and high school but has dabbled in a wide variety of other sports as well. Vincent also loves playing video games and is particularly interested in the emerging industry of esports, or the professional video gaming scene.
While sport psychology typically revolves around how to give elite athletes an edge in competition, Vincent realizes the value of understanding the mind for achieving success, maintaining physical and psychological wellbeing, and increasing life satisfaction for all ages and all stages of life. As the Mental Performance Coach at RTG Performance Academy, Vincent wishes to utilize his knowledge and perspective to help clients gain more control over their performance, whether it be athletics, academics, or simply the performance of life.
Trevor Wiltz MS, PES, Pn1
Sports Performance Coach, Personal Trainer
Trevor graduated from Dallas Baptist University in 2017 with his bachelor's degree, double majoring in exercise science and sport performance. He went on to finish his Master's in kinesiology in August of 2020 and he now serves as an adjunct professor in the undergraduate kinesiology program at DBU. Trevor is a performance enhancement specialist certified through NASM (national academy of sports medicine). Along side his degrees and training certification he is also a certified nutrition coach through Precision Nutrition.
Trevor played a variety of sports growing up including football, basketball, and ultimate (frisbee). He continued his ultimate career and made 2 club national appearances in 2016 and 2017. Following this, he coached the DBU collegiate ultimate team for 2 years. Trevor is also a casual rock climber and enjoys going on climbing trips whenever he can.
Trevor's passion for training athletes, and general population, comes from a long history of injuries and seeing the importance, firsthand, that proper training, and nutrition can play a crucial role in the health, wellness, and performance of all individuals.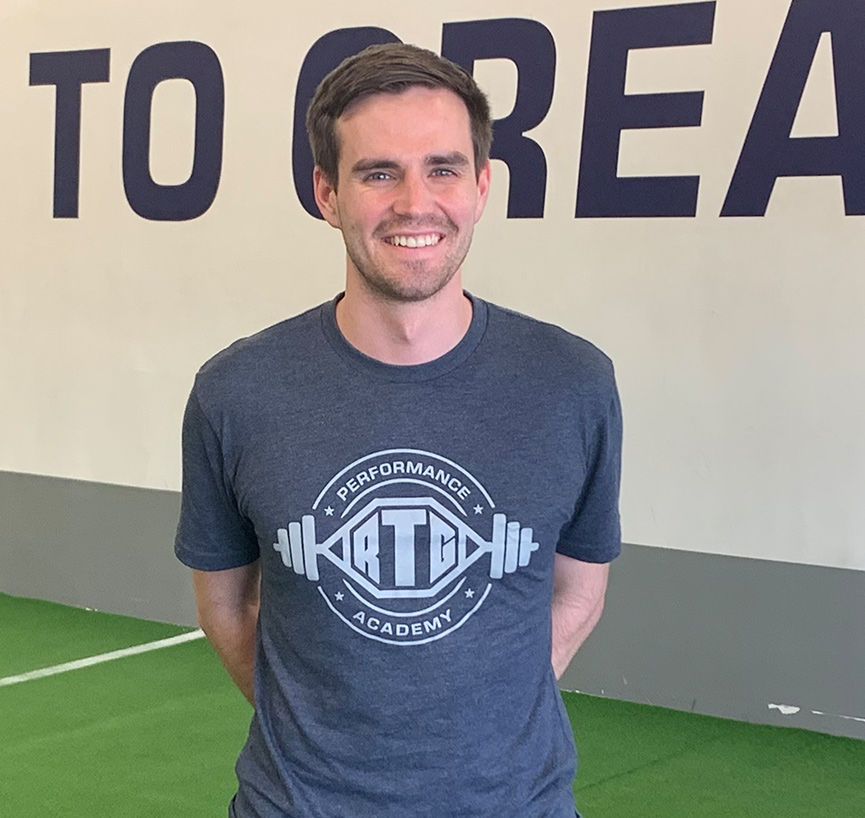 Email: twiltz@rtgperformanceacademy.net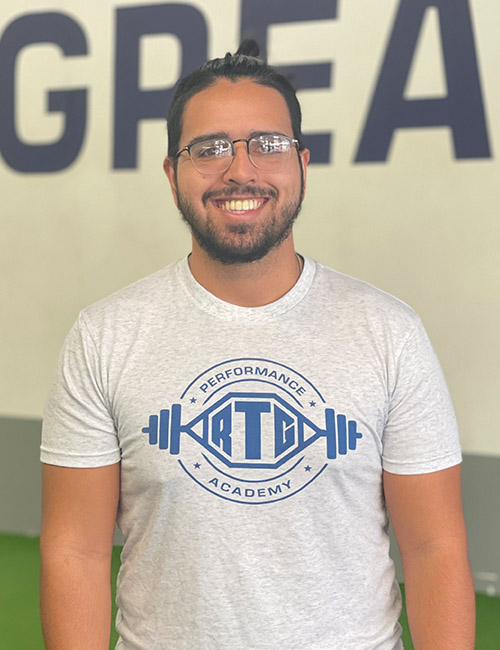 Email: aalvarado@rtgperformanceacademy.net
Sports Performance Coach, Personal Trainer
Antonio graduated from Texas Tech University with a bachelor's degree in Exercise Sport Science. He went on to finish his master's degree in August of 2020. In between Antonio was a competitive baseball coach, middle school and high school basketball coach, a personal trainer and a sport performance specialist. He has worked with all populations from 5-year old's to 96-year old's, people with Parkinson's disease, to the elite athletes, including D1, Olympic, and professional.  Antonio played predominantly baseball throughout his life and dabbled with almost every sport but discovered his passion for sports science after accumulating a few minor injuries where he had to receive physical therapy. Antonio also is an avid gamer who is interested in the benefits of gaming and sports performance.
With an in-depth knowledge of most sports, Antonio has a strong passion for assisting athletes reach their personal goals through sports specific training. His overall goal is to give the best of his abilities and knowledge to each person that walks through our gym.
Andrew Seguin BS, CPT, PES
Sports Performance Coach, Personal Trainer
Andrew Seguin was born here in the DFW and has been considered a soccer player/athlete all his life. I love providing fitness to all ages in the hopes of making everyone around me better. I love the motto "Iron sharpens iron," so being here at RTG I truly believe every day we can try to be better than the day before. Andrew achieved a double varsity jacket with his high school soccer team going 22-0-1, Senior year. He then went and graduated Exercise Physiology and Business Administration at Texas State University near Austin, TX. Involved with First Generation Student Org and Pre-PT Org he played soccer, basketball and flag-football while being a treasurer of his fraternity, Go Greek!.
Andrew's injury background includes broken growth plates in his right leg in middle school and torn ACL, MCL, and meniscus in college. Aside from being in physical therapy a lot, he's shadowed 300+ hours there and 75 hours with cardiac rehabilitation while in San Marcos.
At his internship he developed coaching skills and training methods from Train 4 the Game and Gray's Institute using Applied Functional Science and the 3-D approach. While at Train 4 the Game he helped NFL, NBA, NCAAB, NCAAF, and high school football talent. Andrew is certified with NASM as a Certified Personal Trainer and Performance Enhancement Specialist.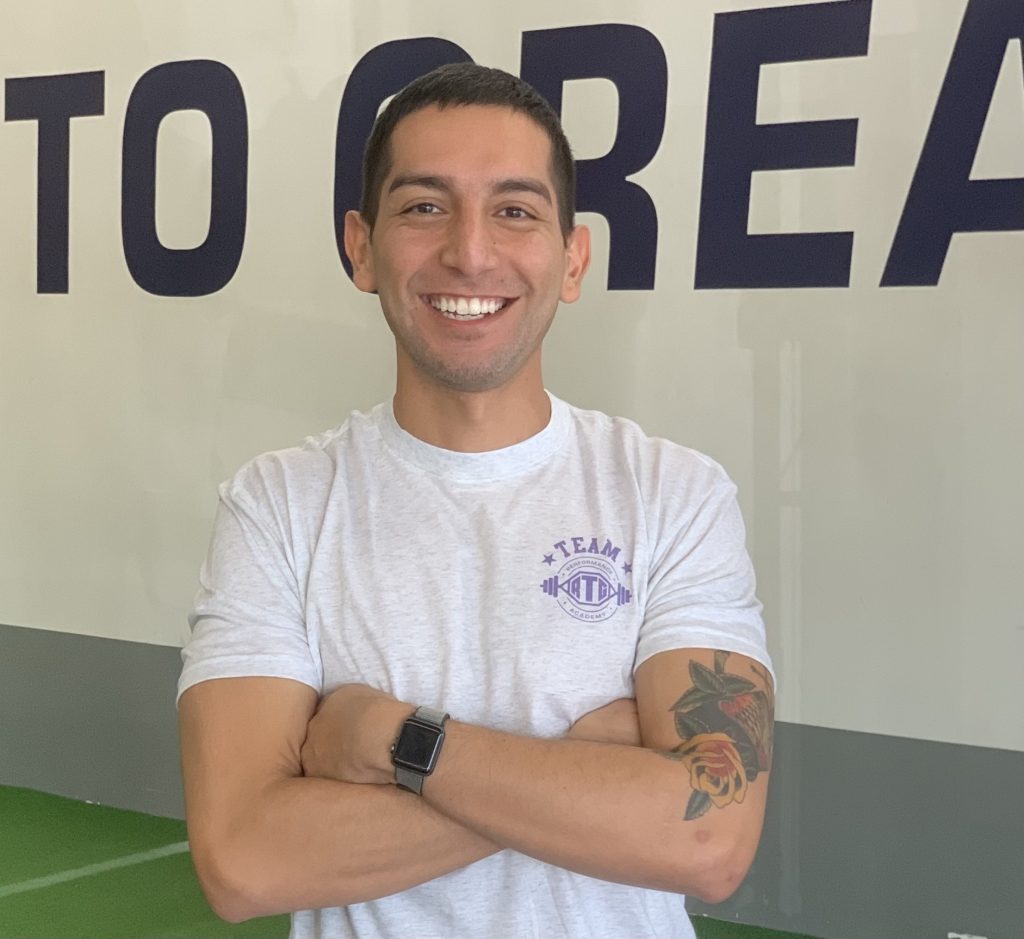 Email: aseguin@rtgperformanceacademy.net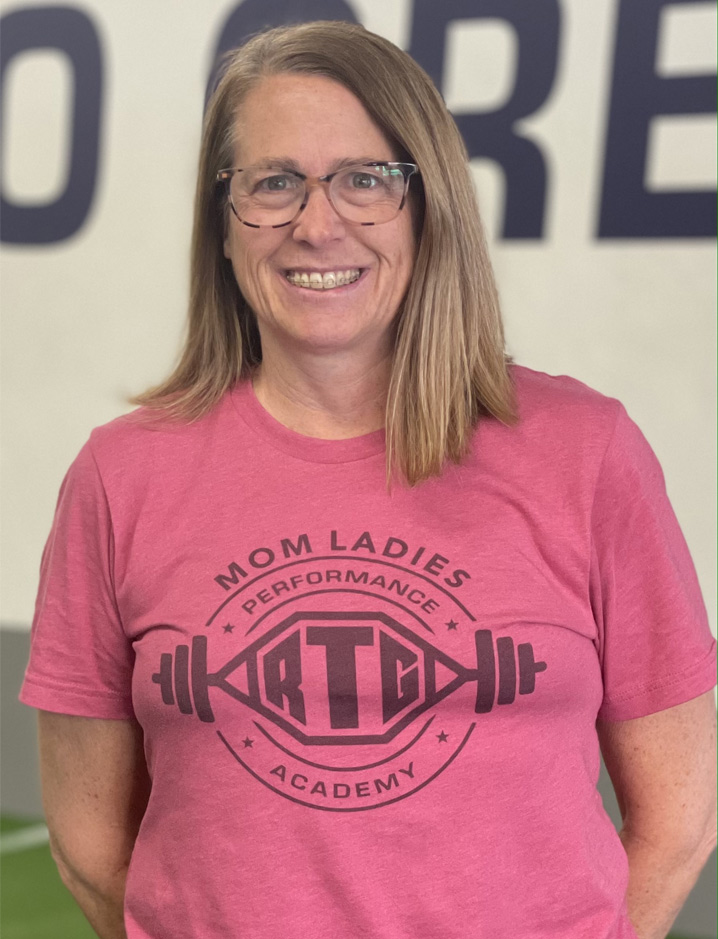 Email: cnaranjo@rtgperformanceacademy.net
Cathy graduated from James Madison University in Virginia. After growing up in Virginia, she moved many times with her husband, Mike and 4 children. She has been living in TX for 10 years, 5 years in Coppell and currently 5 years in Frisco. Cathy's background is in customer service and administration. Here at RTG, she enjoys keeping things going behind the scenes. She also runs the RTG customer loyalty program, keeps the fueling station stocked and enjoys meeting new families! When not at RTG, her hobbies include jigsaw puzzles and time with family, especially her precious baby granddaughter. Cathy loves working at RTG where health and fitness are a way of life!